Mariinsky News
>
2015
>
! PREMIERE ! A Christmas Tale (opera-feerie in two parts) Conductor - Maestro Valery Gergiev.
26 December 2015- 27 December 2015
! PREMIERE ! A Christmas Tale (opera-feerie in two parts) Conductor - Maestro Valery Gergiev.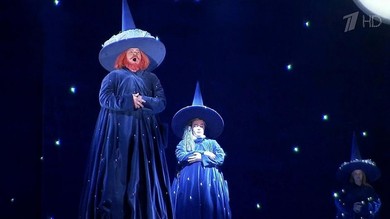 On 26 December at the Mariinsky-II there will be a world premiere of Rodion Shchedrin's opera-féerie A Christmas Tale. The libretto was written by the composer after motifs of Božena Němcová's fairy-tale translated into Russian by Nikolai Leskov and Russian folk tales. Shchedrin has dedicated his opera to Valery Gergiev and the Mariinsky Theatre.
Among those working on the opera are Stage Director Alexei Stepanyuk, Set Designer Alexander Orlov, Costume Designer Irina Cherednikova, Lighting Designer Alexander Sivaev, Choreographer Ilya Ustyantsev and Video Graphics Designer Viktoria Zlotnikova.
The roles are being rehearsed by: the Grubby Child – Anna Denisova, Pelageya Kurennaya, Natalia Andreyeva, Yekaterina Goncharova; the Empress – Zlata Bulycheva, Varvara Solovieva, Yekaterina Sergeyeva; the Stepmother – Anna Kiknadze, Natalia Yevstafieva, Marina Mareskina; the Villain – Larisa Yudina, Larisa Yelina, Svetlana Chuklinova; the Imperial Woodcutter – Mikhail Kolelishvili, Oleg Sychov, Grigory Karasyov; the Great Chancellor – Sergei Romanov, Vladimir Moroz, Alexander Gerasimov, Vladimir Samsonov; December – Edward Tsanga, Alexander Gerasimov, Yevgeny Cherndyaiev; January – Olga Legkova, Lyubov Sokolova; February – Anton Perminov, Denis Begansky; March – Lyudmila Dudinova, Margarita Alaverdian, Pelageya Kurennaya; April – Oleg Losev, Alexander Mikhailov; May – Mikhail Troyan, Denis Begansky; June – Irina Vasilieva, Elena Ushakova; July – Vitaly Yankovsky, Denis Begansky; August – Mikhail Makarov, Oleg Losev; September – Tatiana Kravtsova, Irina Vasilieva, Pelageya Kurennaya; October – Mikhail Latyshev, Mikhail Makarov; November – Yekaterina Krapivina, Marina Mareskina.
Artistic Director and Principal Conductor of the Mariinsky Theatre Valery Gergiev speaks of A Christmas Tale as a "grand, vivid and dazzling score". He has called Rodion Shchedrin's tale a "musical feast for the soloists, and the chorus and the orchestra – a veritable operatic Nutcracker.
"Here everything is mixed up together – the prose of life, magic, the timeless and remote galaxies. That's the difficulty for me with Shchedrin's score," commented Stage Director Alexei Stepanyuk, "Unlike the integral Lefthander and The Enchanted Wanderer here we have a cinematographic idea, turning to highly varied genres and allusions. In order to bring all of this to life we've had to seek original solutions.
There will be further performances on 27 December at 12:00 and on 31 December at 18:30, as well as on 2 and 10 January (at 18:00 and 19:00 respectively).
Submitted on 30 November 2015, Monday
---

Mariinsky Theatre:
1 Theatre Square
St. Petersburg

Mariinsky-2 (New Theatre):
34 Dekabristov Street
St. Petersburg

Mariinsky Concert Hall:
20 Pisareva street
St. Petersburg
To make an order, please use mobile version of our website - buy tickets from any smartphone