Mariinsky News
>
2016
>
Valery Gergiev will conduct the Orchestra of the Russian-German Academy of Music in Moscow and Berlin
21 May 2016
Valery Gergiev will conduct the Orchestra of the Russian-German Academy of Music in Moscow and Berlin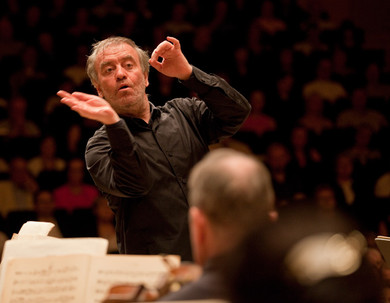 Valery Gergiev will be conducting the Orchestra of the Russian-German Academy of Music on two occasions. On 9 June at 19:00 the ensemble will appear at the Great Hall of the Moscow Conservatoire and on 6 July it will perform at the Großer Saal of the Konzerthaus (Berlin).
The programme of the Moscow concert features Richard Strauss' symphonic poem Ein Heldenleben and Sergei Prokofiev's Piano Concerto No 3, the solo to be performed by Behzod Abduraimov. The evening opens with the Russian premiere of Vladimir Tarnopolsky's opus Tabula Russia, which was composed in 2015.
The Russian-German Academy of Music was founded as part of the Year of Germany in Russia and Russia in Germany in 2012-2013 by young Russian and German musicians. The academy's orchestra includes students of leading conservatoires, trainees and soloists of major orchestras from both countries, among them the Mariinsky Theatre, the Bayerische Rundfunk Symphonieorchester, the Berliner Philharmoniker and the Hamburg Staatsoper Orchestra. Preparations for each concert programme take place under the supervision of experienced teachers from Russia and Germany, with the Mariinsky Theatre having been selected as the main base of the academy. The project's Artistic Director is Valery Gergiev and its Executive Director is Tatjana Rexroth.
Other impending projects of the Russian-German Academy of Music include an appearance by the academy's Chamber Orchestra at the Stars of the White Nights festival in St Petersburg. On 24 June at the Concert Hall of the Mariinsky Theatre the ensemble will perform under Thomas Zehetmair, who will also be appearing as the soloist in Joseph Haydn's Violin Concerto in C Major. The programme also includes Igor Stravinsky's concerto Dumbarton Oaks, Sergei Prokofiev's Classical Symphony No 1 and Ludwig van Beethoven's Symphony No 7.
Submitted on 25 August 2016, Thursday
---

Mariinsky Theatre:
1 Theatre Square
St. Petersburg

Mariinsky-2 (New Theatre):
34 Dekabristov Street
St. Petersburg

Mariinsky Concert Hall:
20 Pisareva street
St. Petersburg
To make an order, please use mobile version of our website - buy tickets from any smartphone