Mariinsky News
>
2016
>
An additional audition for the Ballet Company of the Primorsky Stage of the Mariinsky Theatre
25 March 2016
An additional audition for the Ballet Company of the Primorsky Stage of the Mariinsky Theatre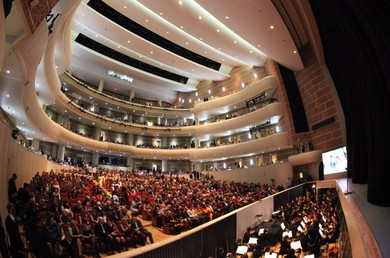 Due to the expansion of the ballet company of the Primorsky Stage of the Mariinsky Theatre (Vladivostok) there will be auditions for dancers in every category. Auditions will take place at the Mariinsky Theatre in St Petersburg on 29 April 2016.
The audition will take place in the format of a ballet class. The audition for soloists includes a classical variation demonstration chosen by the participant.
The age category for candidates is limited to 28 years. Women must have their own pointe shoes.
Requirements:
1. Diploma certifying middle professional education as a ballet dancer;
2. CV;
3. Full-height photograph in rehearsal clothing.
Staff will be provided with a social security package.
Soloists from other towns will receive recompense for housing and the corps de ballet will receive hostel-flat accommodation.
Submitted on 25 August 2016, Thursday
---

Mariinsky Theatre:
1 Theatre Square
St. Petersburg

Mariinsky-2 (New Theatre):
34 Dekabristov Street
St. Petersburg

Mariinsky Concert Hall:
20 Pisareva street
St. Petersburg
To make an order, please use mobile version of our website - buy tickets from any smartphone