Mariinsky News
>
2016
>
Premieres of one-act ballets to music by Sergei Prokofiev at the Mariinsky Theatre
02 July 2016
Premieres of one-act ballets to music by Sergei Prokofiev at the Mariinsky Theatre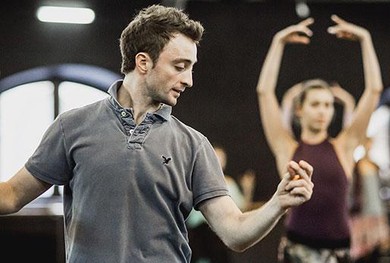 In 2016 the Mariinsky Theatre is widely celebrating one hundred and twenty-five years since the birth of Sergei Sergeyevich Prokofiev. On 4 and 17 July at the Mariinsky-II during the XXIV Stars of the White Nights music festival there will be premiere performances of one-act ballets to music by Sergei Prokofiev : Russian Overture staged by Maxim Petrov and Violin Concerto No 2 staged by Anton Pimonov. Valery Gergiev will be conducting.
The new ballets have no literary foundation – their plots are about movement, the "vertiginous thrill of exactitude" and a love of classical dance.
Maxim Petrov has been a participant of the Creative Workshop of Young Choreographers project, and his Divertissement du Roi was nominated for the Benois de la danse prize; he will be presenting Russian Overture set to Prokofiev's eponymous symphonic work (1936). Following in the composer's footsteps, the choreographer will depict not Russia but a fairy-tale faraway kingdom where much merriment ensues until everything falls into darkness. The lead roles will be performed by Vasily Tkachenko, Yekaterina Ivannikova, Konstantin Zverev, Yekaterina Osmolkina and Maxim Zyuzin.
Anton Pimonov, four of whose pieces are in the Mariinsky Theatre's standard repertoire – among them last season's premieres of the one-act ballets Bambiand In the Jungle, has chosen Violin Concerto No 2 (1935) as his musical material. In his new production the choreographer is turning to an international language – that of neoclassical ballet. The production will feature Viktoria Tereshkina, Andrei Yermakov and Nadezhda Batoeva and Alexei Timofeyev.
The set designs of the new ballets have been created by stage theatre designers Sergei Zhdanov and Anastasia Travkina. Their point of reference came from canvases by American abstract expressionists in Violin Concerto No 2 and sketches by Mikhail Larionov and Natalia Goncharova in Russian Overture.
The evening opens with George Balanchine's ballet Prodigal Son – the only piece by the 20th century choreographer to music by Sergei Prokofiev. At the time Prodigal Son was staged Balanchine was a young man of twenty-five, the same age as the choreographers of the current new productions, but his one-act masterpiece has been performed now for almost ninety years at the world's great theatres.
Submitted on 25 August 2016, Thursday
---

Mariinsky Theatre:
1 Theatre Square
St. Petersburg

Mariinsky-2 (New Theatre):
34 Dekabristov Street
St. Petersburg

Mariinsky Concert Hall:
20 Pisareva street
St. Petersburg
To make an order, please use mobile version of our website - buy tickets from any smartphone