Mariinsky News
>
2016
>
Music by Rodion Shchedrin at the XXIV Music Festival Stars of the White Nights
08 June 2016
Music by Rodion Shchedrin at the XXIV Music Festival Stars of the White Nights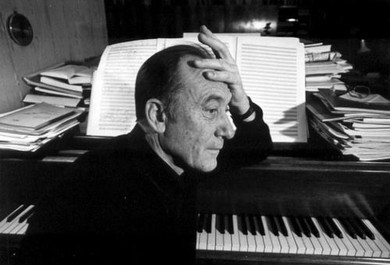 The playbill of the XXIV Music Festival Stars of the White Nights features three operas by Rodion Shchedrin: The Lefthander (June 7, Mariinsky-2),The Enchanted Wanderer (June 13, Concert Hall), and A Christmas Tale, the premiere of the current season (June 18, Mariinsky-2). All three performances will be conducted by Valery Gergiev.
In addition, the festival programme includes concert performances of Boyarina Morozova, a choral opera conducted by Andrey Petrenko (June 9, Concert Hall), and Not Love Alone, the composer's first opera conducted by Zaurbek Gugkaev and featuring soloists of the Mariinsky Academy of Young Opera Singers (June 15, Concert hall).
As for the ballets by Rodion Shchedrin, the festival audience will have a chance to see Anna Karenina with Yekaterina Kondaurova and Ulyana Lopatkina appearing in the title role (June 26 and 27, Mariinsky-2), and The Little Humpbacked Horse starring Alina Somova (June 30 and July 1, Mariinsky-2).
Works by Rodion Shchedrin have a special place in Mariinsky repertoire: the composer's symphonic works have been frequently performed here; three ballet and four opera productions have been staged. The latest ones, The Lefthander and A Christmas Tale were composed specially for the Mariinsky Theatre and are dedicated to the theatre's company and personally Maestro Gergiev.
Submitted on 25 August 2016, Thursday
---

Mariinsky Theatre:
1 Theatre Square
St. Petersburg

Mariinsky-2 (New Theatre):
34 Dekabristov Street
St. Petersburg

Mariinsky Concert Hall:
20 Pisareva street
St. Petersburg
To make an order, please use mobile version of our website - buy tickets from any smartphone