13 July 2007- 21 July 2007
Mariinsky Theatre tour in New York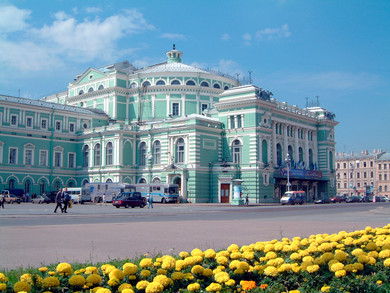 The New York press reaction to the first performances of the Mariinsky Theatre's

Der Ring des Nibelungen at the renowned Metropolitan Opera

The Mariinsky Theatre's tour to the renowned Metropolitan Opera in New York, USA, with Wagner's Der Ring des Nibelungen has come to a close. The Mariinsky Theatre's finest Wagnerian singers are performing under Valery Gergiev to packed audiences. About fifty journalists from leading New York and American media have received accreditation to performances.
Critics have bestowed high praise on the quality of the productions:
"Mr. Gergiev drew an organic, rhapsodic and often riveting performance from the orchestra and the generally impressive cast.
At a time when the national characteristics of orchestras are increasingly homogenized into an international sound, the Kirov Orchestra seems distinctively Russian, with its dusky colorings, reedy and plaintive winds, mellow and weighty brass, and thick, expressive strings.
The mezzo-soprano Larissa Diadkova, who has performed Fricka at the Met, again proved terrifying in the role, singing with abandon, power and smoky colorings.
The baritone Nikolai Putilin was a wonderfully bellowing Alberich, and Vasily Gorshkov, with his agile and cutting tenor voice, conveyed the cleverness of the demigod Loge.
The tenor Oleg Balashov brought a virile sound and crisp delivery to his performance as Siegmund in "Die Walkьre" and worked in poignant sympathy with his lovely and vulnerable Sieglinde, the soprano Mlada Khudoley, the vocal standout of the production so far, who has a lush, sizable and luminous voice. The Brunnhilde, Olga Sergeeva, gave an impassioned and often subtle account of this touchstone and demanding role".
(Anthony Tommasini. The New York Times. 16.07.2007).
"The panting and galloping Romanticism at the beginning of Act II was extraordinary. And the conductor is a master at bringing out nervousness, tension. We heard this, particularly, in the long, edgy conversations between Wotan and Fricka, then Wotan and Brunnhilde. And the Valkyries' ride had less bombast and more character than usual.
Making a boffo appearance was the Sieglinde, soprano Mlada Khudoley. Initially, she sang with a tenderness – and an unforcedness – that really drew the listener in. This was a lovable voice, in a much-loved character. And when the music turned fortissimo, that voice did not turn harsh, but retained its essential beauty. Ms. Khudoley is a fine actress to boot, as she proved in Sieglinde's mini-mad scene (late in the second act).
Brunnhilde was Olga Sergeeva, who has sung that role at the Met before (and under Mr. Gergiev). She can handle the part, which is something to be grateful for, because Brunnhildes don't grow on trees. She was never less than adequate, and, at her best, she was touching".
(Jay Nordlinger. The New York Sun. 16.07.2007)
---

Mariinsky Theatre:
1 Theatre Square
St. Petersburg

Mariinsky-2 (New Theatre):
34 Dekabristov Street
St. Petersburg

Mariinsky Concert Hall:
20 Pisareva street
St. Petersburg
To make an order, please use mobile version of our website - buy tickets from any smartphone